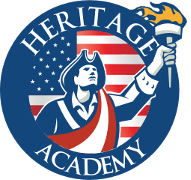 Financial gifts to Heritage Academy directly support school growth and long term viability of the school. Donations to the Academy and tuition payments are the two primary ways the school's mission is supported and advanced. While the Academy continues to grow in student enrollment, it is in need of gifts and donations to help secure its long term financial objectives.
Unrestricted and Restricted Giving
Heritage Academy accepts two types of giving, unrestricted and restricted. In both types of giving Heritage Academy donors are treated with honor and respect. The Academy's not-for-profit status also permits donors an opportunity to claim tax deductions.
Donations provided to Heritage Academy with no instructions to the use of the funds is considered an unrestricted gift. Unrestricted gifts allow Heritage Academy the financial flexibility to apply for the funding at the point of the greatest need. This a very powerful type of donation that allows the Academy to directly affect the school's mission.
Restricted giving is generally limited to an area of the Academy of greatest interest to the donor. Examples include donations to a specific class grade for educational objectives, funding for new computer workstations, or creating a building fund for a new school. Each donation of restricted funding is honored to the best of the ability of the Academy.
Types of Donations Accepted
Heritage Academy accepts many types of donations. Often, donations are made that directly support the tax objectives of the donor.
Cash
Cash donations to Heritage are the most obvious and common ways to provide financial support to the Academy. Stocks, bonds, and other forms of currency are accepted.
Retirement Accounts
A remaining retirement account balance is subject to double taxation if it passed to heirs. Retirement accounts are taxed as both an income and as an estate asset. Over 75% of the account might be subject to tax. This tax is reduced if the account goes to a non-profit charity like Heritage Academy. Other assets can then be directed to heirs.
Life Insurance
Consider donating a paid policy, or designate Heritage Academy as owner and beneficiary of a new or existing policy. There are plenty of inexpensive options with this type of gift and often donors get quite creative. Please let us know if Heritage is in your life insurance plan.
There are many other ways to donate to Heritage Academy. If donors have knowledge of the following financial management tools, they are also accepted: annuity trust; charitable gift annuity; deferred gift annuity; charitable remainder unitrust; charitable remainder trust; charitable lead trust; gifts of real estate; and other valuable property.
Please call 434-432-8380 if you wish to donate to Heritage Academy.