Mission and Vision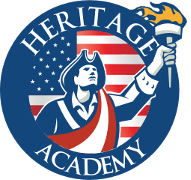 Heritage Academy is guided by its stated mission and vision. A Heritage student thrives under the direction of our founding principles.
MISSION
The mission of Heritage Academy is to partner with you in the education of your children, developing academic excellence, strong moral character, and a love for learning all within the framework of a nurturing Christian environment.
VISION
Our vision is to educate children using a traditional core curriculum which reinforces our national heritage, thereby building a respect for our past while simultaneously preparing our students to meet the challenges of the future. Our students will develop strong academic leadership skills which will enable them to become responsible citizens who will contribute to their communities both now and in the future.