Welcome!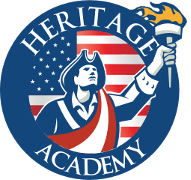 Welcome to Heritage Academy!  Heritage Academy is Pittsylvania County Virginia's foremost Christian day school. Heritage provides primary school students a strong Christian educational environment focused on character development, service to others, and good citizenship.
Heritage Academy serves students in preschool, Kindergarten, and 1st – 8th grades. Our students are economically, ethnically, and socially diverse. Their parents believe in a traditional curriculum that provides a strong parental community of support. Above all, families of Heritage Academy desire their children to be taught in a Christian environment dedicated to God.
Passionate Heritage Academy teachers are the strength of the school program. The Heritage teacher provides the 'living curriculum' that does not teach to a test. They strive to be Christ-like models for students in speech, conduct, relationships, work habits, and in their devotion to God. They are devoted to the Heritage Academy mission and to their students. They want to make a difference in the lives of young people.
Heritage teachers provide instruction in smaller groups, with the average class size having a 7:1 student/teacher ratio. The small class size allows for more student/teacher contact time throughout the school day. This means Heritage students are engaged more often in the classroom. This engagement facilitates student excitement about learning, which propels them into achieving their own academic goals.
A good school can teach any student to earn good grades. A great school provides students a strong moral foundation focused on individual character, a sense of civic responsibility while instilling an absolute love for learning. Heritage Academy strives for this greatness each school day. Our students excel.
Heritage Academy is far, far more than a collection of books in a room. It is a strong community of parents and teachers working together to achieve a brighter future for all Heritage students. Their concerns are shared and their passion for providing the best Heritage educational experience is unequaled.
Heritage Academy is a highly engaged Christian school focused on a student's academic success and character development. Give your son or daughter an outstanding educational experience that welcomes God in the classroom. Give them the Heritage experience!
Sincerely,
The Heritage Academy Faculty